This website is dedicated to the old Pickett School that burned down.

In Loving Memory of Mary Margaret Heerlein-De Shon "Punk".
Pickett School Historian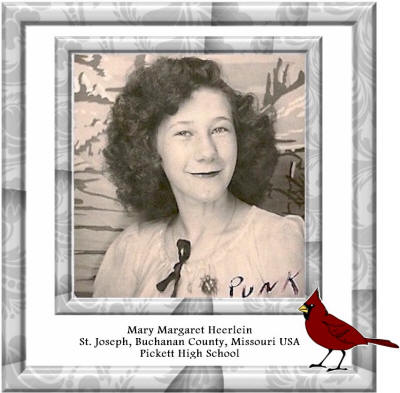 She created about 9 giant binders filled with all of the original class pictures,
obituaries, reunion pictures, memorabilia and so much more.
I bought her a subscription to the St. Joe News Press & Ancestry.com.
I taught her how to use the internet.
She rocked & became unstoppable on Google & loved her email!
I lost my laptop & printer to her, forever as she used them everyday.
She would look up obituaries & St. Joe stuff to add to the books.
Mom wasn't shy about calling the alumni and asking for photos or information.
All of the alumni were great about contributing old photos they had
held on to for years.

Every other year, an All School Reunion was held in St. Joseph, Missouri.
Mom would drag me along to cart these books in and out of the event.
I took pictures and videos of the attendees.
As the alumni aged, I would carry food or drinks for those with
walkers and wheelchairs.
Mom kind of considered me a work horse as she directed me to help clean up
at the end of each reunion.
Here are just a couple of photos of the alumni reliving old memories
as they went through book after book.


Mom would put notes on pages of the books to ask the Alumni to identify people in a photo
if she didn't already know identities.
She also marked individual pictures with a small "D" for deceased.
Every time I had photos developed, I would get 3 copies made.
At the next reunion, we'd put the extra copies out so the Alumni
could take a free copy of pictures they were in.
Mom left sticky notes near the books so people could leave a note to tell us
if a name was spelled wrong, or someone had passed, changed marital status, etc.
Everybody loved it.

On her death bed, I asked, "Momma. What do you want me to do
with the Pickett Books?" She reached out, took my hand and said,
"Don't ever let them out of your sight."
I patted her hand and promised I wouldn't.
She died a couple of days later.
Several people have demanded that I give the books
to this person or that person.
My answer is always, "Don't ask me to disrespect my mother's dying wishes."

Rest in Paradise, Mom! Your books are safe with me!
February 15, 1931 - December 4, 2006